This "Advanced Guestbook" permits you to leave your name, and optionally, your e-mail, and a photo. Your message is limited to a maximum of 1500 characters, but you may add to the guestbook many times.
If you decide to upload a photo, it cannot be bigger than 60kilobytes. So, it would be wise to prepare the photo ahead of time.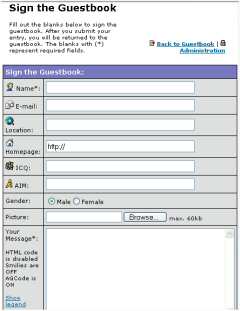 Unfortunately, this program cannot be configured to collect different information, unless you wish to add further contact details within your message/comment.
Below is a link to another form that may be more useful for searching and sorting visitors.
Here you may view messages already created by others. You may also add your comment to that of an earlier visitor, by clicking on the pencil and paper icon.
Notice that "name" and "your message" are the only required fill-ins.
The page will look something like this: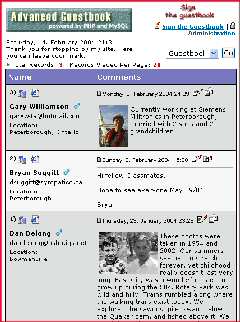 Remember, the Armour Heights Discussion Forums is a better place to leaver longer messages or completed short stories. You may return to the forums and edit your content at any time.