Search Site

Visit your Old Neighbourhood.
Please, send your recollections so that others may enjoy your memories.
View the first Armour Heights Yearbook 1954 , and yearbooks for 1956, 1969 , 1993,1994, and 1996.
Send more photos and stories to Dan Delong.
JUST ADDED: March 24, 2011 - a WORKING GUESTBOOK - where you can see contact information left by others, and leave your own contact information. DO NOT USE THE CONTACT PEOPLE LINKS ABOVE. THEY DON'T WORK.
TIP: If you are concerned about spammers sending e-mail to the address you provide, create a non-critical, or temporary e-mail address [Yahoo, gMail, HotMail]; All can be configured to forward mail to your usual e-mail address, without disclosing it. OR, you could type your email address in the comment area in a clandestine way - e.g; dandelong hat timetraces dotty com. Internet robots are unlikely to translate, whereas humans can.
NOTE: This site is not regularly maintained. New material, sent to Dan Delong will be posted below.
Continue to use this web site for further interactions with students and staff from days-gone-bye. Your photos and stories will be published right here!

To bookmark this site, your browser location window should read: (click below) http://armourheightsreunion.timetraces.com
Latest in:
• Students help clear snow for neighbours (Dec 22)
• 1955 Grade 1 Miss Jean Leach - some names (Dec 22)
• East City Streetscapes [started September 2004, additions October 2004, November 2004]
• Streets and Family Names from 1956-57
• Pamela Anthonisen photos
• Videos - ribbon cutting, 1953 to 1963 room, gym activities (July 13)
• Paul Starr Photos (July 4)
• Odds and Ends Photos - most decades (June 25)
• 1959 Convenor Notes (Fun Night & Tea)
• Mrs. Arlene Petrany 1985 to 1994 photos
• 1977 classes and staff - named (June 16)
• 1981 classes and staff - named
• alumni e-mail and addresses to share
• 1955 Grade 6 Mr McNeill (. . . thanks Pauline)
• AH 2004 Reunion Photos (June 15 additions)
• 1971 Grade 8 Mr Bullock Mr Cruikshank
• 1970_Grade_7_Mr_Gilders
• 1986_Grade_8_Rm_15_Ms Nixon
• 1963 Grade 8 Classes (some names)
• Some Grads from 1954 to 1990
• 1954 Grade 5 Mr. Anderson
• Miss Spence Collection 1953-1956
• Ten Cents Worth of Gas Please - story by Ross Jamieson
• 1961 Gr 5 or 6 Mr Willock
• 1974 Gr. 4, 1975 Gr 5, 1977 Gr. 7, 1978 Gr. 7 and 8
• 1956 Kindergarten, 1957 Gr. 1
• Class Photos 1973 1982 1983 1984 1988
• 1999 AH Yearbook
• 1979 Class Photos with names
• 1980 Class Photos with names
• Suzanne Heilingbrunner story
• Views of the Neighbourhood updated
• Views of Armour Heights updated
• Clippings Collection - new items
• 1959 to 1970 Best Story or Poem
• 1980 Memories of AH
• 1968 AH Yearbook
• 1998 Armour Heights Yearbook
• Home and School Scrapbook 1953-1956

First Teaching Staff
1953-54

Reunion News
<< Check latest in list (left) for photos and stories collected during this very special day.
Four members from the original teaching staff attended the Reunion. More >>
Did you attend PCVS, after graduating from Armour Heights? If so, you may find e-mail addresses for your classmates at the PCVS Alumni Site.
| | |
| --- | --- |
| | Armour Heights on the WEB: |
Armour Heights puts energy into educating bystanders Monday January 20, 2003 Michelle Strutzenberger
When three grade eight students at Armour Heights Public School saw a student at the centre of a bully ring recently.
More >>
Bank manager says questions of integrity will be relevant throughout life
Wednesday May 14, 2003 Roderick Benns
A Peterborough bank manager says the ability to draw upon integrity is something that a student will use throughout his or her life. More >>
A number of prizes were awarded by the Clean Again, Green Again school campaign to local schools for their contribution to Earth Day 2003 ... More >>
Ontario Legislature: PROTECTION OF OZONE LAYER:
Mr. Adams: "The greenhouse effect on our climate has received a great deal of attention. This follows a major conference in Toronto, a TVOntario documentary, and grass-roots interest in places such as Peterborough, where city and county council, private citizens, and students from Armour Heights school, among others, have expressed concern."
More >>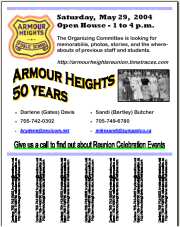 Here is the original advertisement poster!

1950s badge
Peterborough artist, George Elliott, has created this 4x6 inch 50th Reunion ink and watercolour drawing. Only twenty framed and matted copies are available at the reunion, for$40 each.
Purposes of This Site:
to place some contact information on this web site. (This will help you to arrange meeting times and allow messages amongst those who cannot be at the reunion in person.)
to make available a reunion itinerary and a job list of volunteers - i.e.; "Who is Doing What".
to display some of the history of Armour Heights, along with current events. [e.g.; HAPPS 1954 Year Book, HAPPs 1956 Yearbook, 1969 Yearbook, Shining Armour 1993 Grad Book 1994, Grad Book 1996]
to provide on-line, web conferences in which students, parents and teachers may leave messages and memories to share with other visitors to this site.
to seek digital media for this web site and for the production of a computer CD, video or booklet consisting of past and present memorabilia- i.e.; photos, clippings, history, recordings.
to find members of the community who can relate their past experiences to the students of today. (Contact the Reunion Committee or the School.)